posted 30 Jul 2021

We're delighted to be part of Summer Solidays - a fun programme of Summer holiday activities for children across Solihull.
DOWNLOAD A WEB-FRIENDLY COPY OF OUR SUMMER SOLIDAYS BROCHURE
HAF Amazing Art Workshops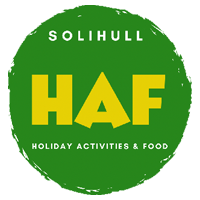 Enjoy expert art tuition by Art at the Heart CIC artists (who run regular classes at The Core). These extended sessions are a great way to expand art skills, and really get results!
All sessions run 10am - 2.30pm and cost £10 per session* - bring a packed lunch or pre-book a lunch bag (£5 each)
*sessions are free where children qualify for term-time free school meals.
Sign up for one (or more of the following sessions) from 3 to 27 August across 4 locations:
Tuesdays (age 5+) at The Core
Wednesdays (age 11+) at The Core
Thursdays (age 5+) at Chelmsley Wood Library
Fridays (age 5+) at Balsall Common Library
Super Storytelling Sessions
Sign up for FREE storytelling sessions at Solihull Libraries on Tuesdays and Thursdays throughout August. These interactive sessions will be led by a variety of brilliant storytellers and live performers including Kate's Storytree, Sohan Kailey, Pyn Stockman, Booster Cushion Theatre and Sal Tonge.
Each session lasts 30 - 45 minutes, and must be pre-booked using the Library's Online Events system.
Family Film Fridays
The Core Theatre Solihull is now showing film! Enjoy a great choice of summer films - just £5 per ticket,
Fri 6 August 2.30pm: We Bought a Zoo (PG)
Fri 13 August 2.30pm: The Jungle Book (U)
Fri 20 August 2.30pm: The Lion King 2019 (PG)
Fri 27 August 2.30pm: Finding Nemo (U)
Magical Movie Moments
Enjoy fun film-themed sessions at The Core on Friday afternoons from 1-2pm! Art sessions cost £5 per child when booking for a film. Learn sketching techniques to breathe magic into your favourite movie characters in exciting pre-film workshops (aimed at age 5+). Find out more
Park Fundays
Enjoy fab free fundays in Solihull Parks each Wednesday throughout August!
Turn up anytime between 11am and 3pm for Solihull park adventures! Kids can enjoy full on fun, with storytellers, live performers, rides* and other activities. (*some rides are chargeable.)
Wed 4 August - Bentley Heath Park
Wed 11 August - Meriden Park, Chelmsley Wood
Wed 18 August - Olton Jubilee Park
Wed 25 August - Shirley Park
Summer Shows
Mr Stink - Wed 25 August 7pm & Fri 27 August 7pm, Brueton Park
Enjoy fun and silliness in this fantastic outdoor show by Heartbreak Productions, as they bring to life the David Walliams' classic about an unlikely friendship between 12 year old Chloe Crumb and an incredibly smelly homeless man! Find Out More
Pop Divas LIVE - Sat 28 August 7pm, The Core Theatre Solihull
Listen to the songs of all your fabourite female stars in one hit-packed show at The Core Theatre. There will be tuens by Little Mix, Taylor Swift, Beyoncé and many more! Find Out More
Summer Reading Challenge
The Summer Reading Challenge is back and children ages 4-11 years old are being challenged to read six books over the summer and join in the fun. This year's theme is Wild World Heroes and is in partnership with WWF.
All you have to do is register for free at any Solihull Library to get your collector pack and then collect stickers when you visit the library over the summer. You can also join the Summer Reading Challenge online where there are lots of videos, games and competitions too! Plus the Book Sorter that will recommend some really great reads.
Join our Friends at Castle Bromwich Hall Gardens
Visit https://www.castlebromwichhallgardens.org.uk/ to find out what's happening at the gardens this Summer!
B'Opera create music for tiny ears in First Songs in the Orchard - interactive family music sessions for age 0-4 years and parents on Thu 26 August.
Become part of a fun-filled swashbuckling journey from 27-30 August in Hook and Pan's Adventure as actors lead you around Castle Bromwich Hall Historic Gardens, following a trail of exciting clues.